The Portage Foundation honours Québec's greatest philanthropists
The Portage Foundation is a Canadian non-profit organization. Its goal is to help people with substance abuse problems overcome their addiction and live sober, happy, and productive lives.
Since 2004, the Soirée des Grands Philanthropes pays tribute to a prominent personality in the Quebec business world. During an annual gala, Portage thanks leaders, entrepreneurs, and major philanthropists. They're honoured because of their contribution to Québec's economic growth and its influence in Canada and abroad.
In 2020, due to pandemic and health restrictions, the Foundation's leaders were keen to honour the last 17 laureates in a virtual gala event. Always available, the NH Photographers Group committed to providing 500 masks and 400 kitchen aprons to enhance this event.
Bravo for this grandiose work and for the contribution of many of our leaders in the Quebec business world.
For more information on Portage, visit their website.
NH Photographers' services, always appreciated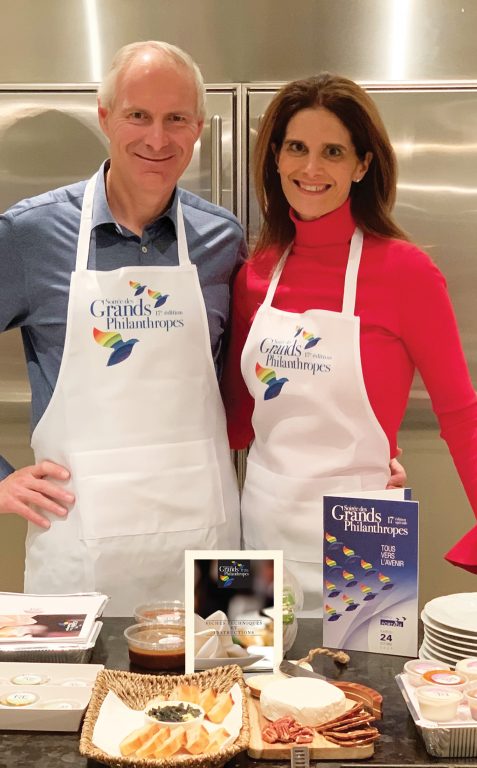 Photo: François Olivier, President and Chief Executive Officer, TC Transcontinental and member of the Soirée's Honorary Committee; Isabelle Marcoux, Chairman of the Board, TC Transcontinental
Source: NORMAND, AS-TU PRIS CETTE PHOTO ?
Aprons: Produced by NH Photographers for the Soirée des Grands Philanthropes
On behalf of Portage, I would like to thank you for your excellent collaboration during the 17th special edition of the Soirée des Grands Philanthropes. You responded diligently and professionally to all our requests and your little photographic miracles made a visual difference to our interactive auction. Your masks and aprons in the image of our event were greatly appreciated by all participants and were one of the innovative elements of the success of this reinvented evening.

Colette M. Taylor, Vice-president PHILANTHROPIc Development Portage