His unique style, described by one New York critic as "neo pop happy", combines layers of acrylic paint with textured collages, small text passages and black outline lines, giving his paintings their recognizable signature. The result is a puzzle with assembled pieces, the black space created by the lines being the remnant of the separation that is still possible. Where his subjects are not stripped of clothing and flesh, they are dressed in flamboyant, theatrical costumes.
Art and history
Adèle Blais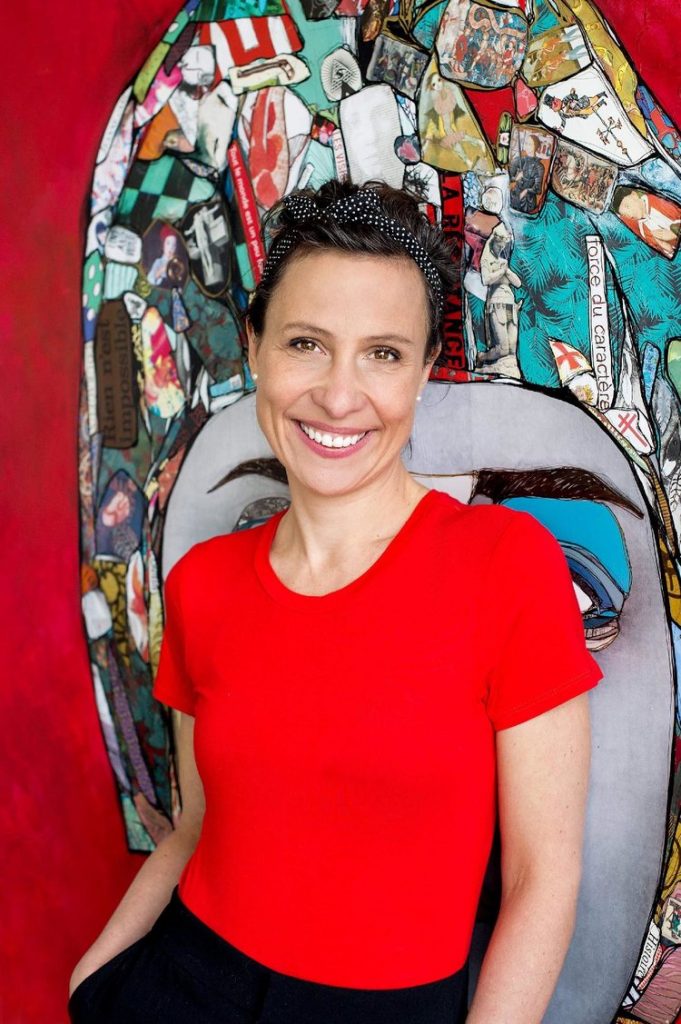 The Sherbrooke artist is self-taught and has been committed body and soul in his profession for more than 15 years. It is first of all the artist's greatness of soul that strikes us when we have the chance to meet Adèle.
Photo Sofia Villeneuve
Les Sublimes reinvented as masks
Her creativity, life and relationships stem from her sensitivity and desire to meet people and to know their history. It's not surprising therefore that she's been working for over three years on Les Sublimes, to highlight the stories of incredible women.
By combining masks with quotations, Adèle Blais wants to celebrate women by giving them back their right to speak. These women from Virginia Woolf to Marylin Monroe, Maria Callas, Coco Chanel and Simone de Beauvoir marked the last century. The artist invites people to take an interest in their lives. She wants them to learn more about the history of women so often ignored in the history books.
Masks that highlight women of strength
Fortes masks were created from the works of Adèle Blais' Les Sublimes series. Five women are highlighted, each with a quote of their own. The artist put her trust in Normand Huberdeau and NH Photographers Group to make high quality reusable masks.
Made in Quebec, the masks are on sale in certain pharmacies and on adeleblais.com. Each one costs $24.99 and you can get the complete series of five masks for $99.99 . They come in a beautiful packaging with a small cardboard box describing the woman mentioned and her achievements.
A great gift for the Holidays!
For more information: https://adeleblais.com